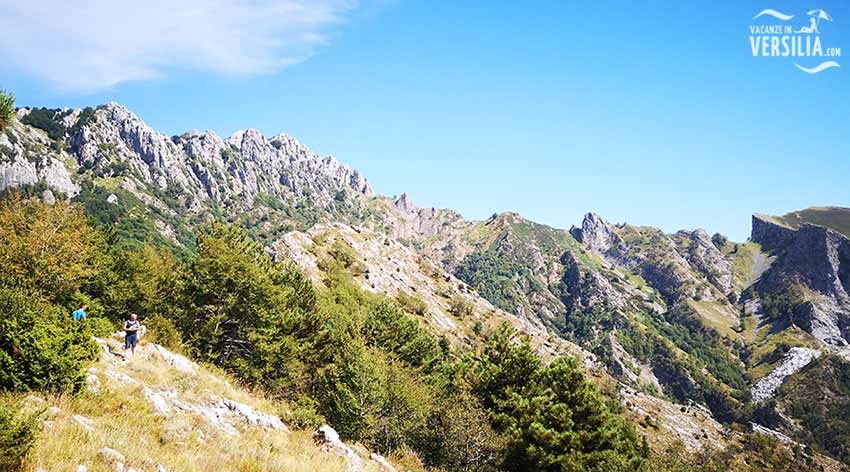 The Apuan Alps:

All you need to know
The marble mountains are a naturalistic jewel protected by a regional natural park, an ideal destination for nature-lovers. This extraordinary alpine landscape on the sea encloses an incredible variety of flowers and rare plants. The mountainsides, the numerous karst caves and deep caverns of the apuan Alps attract many speleology and mountain climbing enthusiasts. Within the park is it possible to go on walking or horseriding tours. Strabone named them "Moon-mountains", but they are generally known as " panie" from the name of some peaks whose outline was familiar to the sailors of the high Tyrrhene sea.
Anyway, for everyone who comes from the north along the Magra Valley or for everyone who follows the coast, The Apuan Alps stand out as an element of the landscape, which , once entered in the visual field , doesn't leave it for over one hundred kilometres, and stand out not only as a background for each urban or sea view. In the cultivated plain the centres of Carrara, Massa, Pietrasanta and Camaiore are situated parallely to the sea and have given life to their respective "marine", well patronized seaside resorts.
The Apuan Alps , in the past considered as unscalable mountains, are nowadays a very interesting tourist area both on the Tyrrhenian side and on the inland of the Lunigiana and Garfagnana not only for the presence of the marble quarries and for the marble industry, but also for the various opportunities which they offer from the naturalistic, speleological and excursion point of view. Moreover the historical- artistic testimony of a really border zone is not to be neglected on horseback along the mountain passes which from the Padana Plain lead towards the centre of Italy.
1) VIDEO The Apuan Alps
View from the Apuan Alps - Massa
Posted on:
13 Aug 2018
A tourist area of great interest, not only for the presence of the quarries but also for the many opportunities they offer from the naturalistic point of view.
What to see in the
Surroundings
The Apuan Alps
How to reach: